Pranayama, Yoga & Sound Retreat in Andalusia, Spain
Explore the power of breath, movement and sound
4- 10 November 2018
Daily Meditation & Yoga Classes | Pranayama | Breathwork | Singing Circles | Healthy Organic Food 
About this retreat:
Location
Accommodation
Food
Schedule
Cost
About this Retreat

Pranayama, Yoga and Sound Retreat
We will spend 5 full days together, merging into the depth of the breath. The breath is one of the most powerful tools we have and most of the time we are not aware of it. Once we bring awareness to the breath magic can happen. Safety and a feeling of being home is important to us, to allow you to try something new and explore the depth of the healing energy through breath, movement and sound.
Breath is our life energy, our prana, it nourishes our cells everyday, it keeps us alive. In this retreat you will explore different ways of how to use breathwork to become more present in the body and therefore in life. In the mornings we will integrate pranayama and different breathing techniques into the Meditation and Yoga practises, which are suitable for beginners and advanced practicioners.
Covered topics:
Pranayama, such as bhastrika, (bellow breath) Nadi Shodana (alternate nostril breathing), ect.
The use of the bhandas (locks) in connection to the breath , khumbaka (breath retention), includes practising uddiyana bhanda (the belly lock)
Belly Breathing (Full Yogic Breath)
Breathing Anatomy / Nervoussystem
Rebirthing Breathwork Ceremonies (conscious connected breath)
Hatha Yoga with Kundalini Elements (Lineage of Dhirendra Bhramachari)
Yin Yoga as a balanced practise to integrate the breath
Diaphragm/Psoas releasing techniques
Meditation
Dancing and celebration
Mantra chanting
Let's connect to this life energy with our whole being and explore all the facets of it.
You will learn theoretical parts about the breathing anatomy and the connection to our nervous system. Mainly we will spend time to explore those different practises and feel the powerful effects of it. This is a week long immersion to learn, deepen and explore the breath.
Breathwork enables us to go deeper into our inner being. In Breathwork Ceremonies we can learn how to free ourselves from old beliefs, overcome birth traumas, learn more about our own personal law and become more conscious and alive with our breath. We integrate the power of affirmations, the 5 emotions and various practical exercises to deepen the connection to ourselves and others.
You will leave with simple tools which allow you to connect with your true self, bringing you into a deeper state of happiness.
The goal of this retreat is to achieve more practise, more understanding around the breathing practises in Yoga and daily life.
Through deeper breathing and breathing techniques you are able to…
… gain more energy
… reduce stress levels
… get a deeper understanding about the breath
….give your body a reset, mentally, physically and emotionally
… improve your digestive system
… release old pattern
… clear your mind
… improve your sleeping quality
… become more present
… connect with your feelings
…. and hopefully enjoy some blissful, playful and happy moments ! ?
********************************************************
We all naturally contribute to this beautiful coming together in nature, something which is definitely worth celebrating! There will be time to relax by the pool, nourish our bodies with amazing food and dance into ecstasy with heart touching music.
Please note, we do not serve any alcohol and also ask you to be free of alcohol and drugs for your stay with us.
Our workshops offer high quality material and will be facilitated by international teachers. Our teachers bring variety and a background of many years working with transformation and healing. This retreat is suitable for beginners in yoga and healing work and also helps to develop advanced practitioners.
We will create a sense of being at home and being held in a sacred space to allow transformation to happen. We will be a unified family and welcome a range of age, culture and background to experience this magical journey together.
Location

Cortijo Caseria Del Mercado is a small organic, biodynamic farm high in the Alpujarras mountains of Andalucia, southern Spain with a huge array of fruit and vegetables grown on site. The farm cares lovingly for goats, horses and has a peacock breeding sanctuary.
Their traditional practices honour nature, ecology and a heartfelt love for the land. The retreat center has been specially adapted to host bespoke events and the main yoga shala faces West, overlooking the stunning mountain ranges. The Cortijo also has an amazing natural mineral water swimming pool and a second yoga shala outside in the clear mountain air, under the shade of fruit trees.
The local area (the highest point in Spain) is fantastic hiking country with spectacular mountain views and isolated "White villages" where you have the opportunity to hike to Mt. Mulhacen on your day off.
The closest town from Cortijo is Orgiva.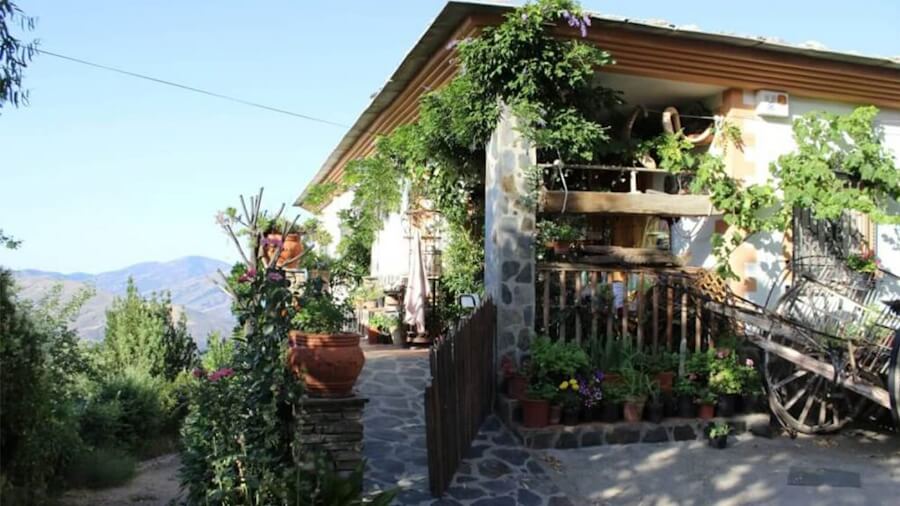 GPS coords: 36° 55.543, -3° 16.388
Accommodation

The venue's farm building offers various traditional, comfortable rooms with a communal style and family feel. Each shared unit has a small kitchen with wood fires for cool evenings and windows opening onto the abundant flowers that envelop the buildings in color.
Shared accommodation with shared bathroom is included in the course fee but for an additional fee single rooms may be available. Please contact us to determine availability.
Wifi is available.
Food

We have an amazing chef with us, who will lovingly prepare amazing vegetarian meals to nourish our body and soul.  Fresh organic fruits and vegetables will be available from the farm. During the day we provide snacks and tea. We are happy to arrange for special dietary needs upon request. Please note there is no supermarket close by.
"When you own your breath, nobody can steal your peace"
Program and Daily Schedule

07:30- 09:30   Meditation/ Morning Chanting, Pranayama and breath focused Hatha Yoga (integrates elements of Kundalini practises)
09:30-11:00    Brunch
11:30-12:00    Sharing/ Meeting
12:00-16:00   Snacks, Rest and Personal Treatments
16:00-18:00   Pranayama  & Yin Yoga (on two afternoons you will be guided thru a breathwork ceremony)
18:30-19:30   Dinner
20:00 -22:00  Evening Event (Singing, Dancing or Games by the fire)
There is a natural mineral water swimming pool and hammocks in the beautiful and colorful garden to spend your free time and rest.
The evening events will be created beautifully to celebrate life with dance, singing circles or games.
Our workshops offer high quality material and are facilitated by international teachers. Our teachers bring variety and a background of many years of working with transformation and healing. This retreat is suitable for beginners in yoga and healing work, and also helps to develop advanced practitioners.
We will create a sense of being at home and being held in a sacred space to allow transformation to happen.
Check out our teacher profiles to get a better picture about the facilitators of this retreat. In this retreat Mela Mariposa is the main facilitator and some amazing guest teachers. Feel free to ask us any questions.
Cost

€650 for 5 days/ 6 nights in the Alpujarras Mountains of Andalusia.
*Early Bird Offer until Sept 1st  590 €
This includes all meals, shared accommodation, full use of the property's spaces, farms and hiking trails, daily yoga and meditation classes, all the workshops, evening events and an arranged transport from and to Orgiva on arrival and departure days.
To save your spot we ask for a 130 € deposit. The deposit is not refundable.
The price includes one schedules pick up and drop off from and to Orgiva. For different timings, we can easily help you to arrange transports.
FAQs

What are the benefits of focusing on the breath?
Here 11 benefits for you on deep belly breathing.
Deep Breathing makes you calmer.
Deep Breathing helps to detoxify the body.
Deep Breathing relieves pain.
Deep Breathing makes you happier.
Deep Breathing helps to improve your posture.
Deep Breathing stimulates the lymphatic system.
Deep Breathing increases our cardiovascular capacity.
Deep Breathing gives you energy.
Deep Breathing improves your digestion.
Deep Breathing strengthens the major organs of the body, such as lungs and the heart.
Deep Breathing helps to regulate weight.
What makes this retreat so special?
We focus on the breath, on the breath and on the breath. In yoga, pranayama, breathwork and singing. We breathe every day and most of the time we are not aware of it. In just 5 days you will discover many benefits of the breath, and I promise you, you will feel a difference. As we are in a stunning place in the middle of the nature, this helps us to go deep and connect with our true being.
What is Kundalini Yoga?
Kundalini Yoga is a form of traditional Hatha Yoga. It is a Yoga practice with the use of the breath, some-times we hold the breath in different postures and that creates a lot of energy. We use Bhandas (locks) that bring a lot of benefits, and help us to move stagnant energy in the body. Kundalini yoga is mainly used to awaken an energy inside of us, the clear energy channels and brings us out of the mind into a state of meditation. It is not a stretchy dynamic class or very physical, even though the physical body will also benefit of the practices.
How is the weather in May?
May is the best time of the year to travel to this area, it is spring time, it is a sunny area. The days are warm (25 degrees) and we have a beautiful garden to hang out and have a dip in the pool. The night may still be a bit chilly.
Do I get a discount if I bring a friend?
Yes we offer a 50€ discount for any friend you bring.
Is there only shared accommodation?
We usually only provide shared accommodation, but if you want to have your own space, for an extra charge this may be possible depending on availability.
What else can I do around this area?
We offer a beautiful hike to Mt. Mulhacen, the highest mountain on the main land, on the free day. Also, the city of Granada and the Alhambra Palace is highly recommend to visit.
Could I drive there myself?
Yes, please let us know and we can send you directions.
How do I get to the farm?
We'll arrange a pick-up service from and to Orgiva.
Where do I need to travel to?
You have to take a Bus from Malaga or Granada to Orgiva.
Is there wifi?
Yes there is!
Is there any shop close by?
The place is secluded and privately situated on the mountains. There are no shops close by.
Do I need any yoga experience to join this retreat?
You don't have to! Just be open to explore new things, we always give options for beginners.
I have a special diet, can it be adjusted to my needs?
Yes, we offer glutenfree and vegan option. For any other diet needs, please get in touch with us. Food is a very important topic for us, so it is important for us to use local products, high quality ingredients and as healthy as possible.
Breathe Deeply And Say YES!