Breathwork Training
Become a Breathwork Facilitator
Share the power of breath with your community!
Breathwork Facilitator Training
Do you want to learn how to guide someone save through a powerful breathwork session ?
Are you interested to learn about your nervous system and receive tools to deepen your connection to your feelings and emotions?
Breathwork is a tool that helps your clients, to release stuck emotions, look beyond patterns and understand the power within their own body.
This training is for therapists, bodyworkers, yogis and healers that want to enrich their offerings, and anyone who is interested to learn how to guide someone into a place of deep connection, and presence with themselves.
Breathwork is an incredible powerful healing modality.
It can bring you into very deep states of yourself, a trance like state, only using your breath. In a short time you can explore a heightened state of presence and self-awareness. With this specific conscious connected breathing technique you are moving your energy, and with that you probably get in touch with your thought- patterns, emotions and experiences beyond your mind.
You get the possibility to dive deep into your subconscious, moving stuck energy or traumas and let go of mental projections. Breathwork is a powerful medicine and deep work, it opens up, brings more aliveness and helps to shift your energy to bringing more awareness to yourself and complete some healing in yet unresolved places.
In this breathwork training, we are focusing on a deep understanding of the breath, and its power including a profound holistic approach and working with intuition.
The focus is on gentleness, softness and opening, rather than on catharsis. Each facilitator has to go through a personal journey embodying their own breath, to be able to guide a client into a save space of healing.
Safety is of highest priority. Holding space for others in order to heal requires a deep understanding of behaviours and patters, you will learn how to read your clients breaths and how your clients life patterns are reflected in the way he breathes. Integration, is as big as the breathing part itself. You will learn how to work with rituals, get familiar with the energy system, and learn how to use the powerful source of mother earth.
This training includes deep personal work and requires a strong commitment.
Breathwork Facilitator Training
This training is designed in a way to give you space and time to practise and grow with your personal and professional work.
Module 1 has to be taken first, then you can choose how you want to continue.
Module 1 EARTH, Foundation: (10 Days)
Learn about the principles of breathwork and trauma and practice to give a save 1:1 Session.
Module 2 WATER, Expansion: (7 Days)
Beyond Breathwork, sharpening your intuition and learn how to work with energies. You will get familiar with the chakra system and how to use it in your work, work with the elements, and experience to breathe in the water.
Module 3 FIRE, Blossom: (7 Days)
Hold a save space as a group facilitator, learn and create rituals and ceremonies. Get into your power and share your magic.
Module 4 AIR, Deep healing: (7 Days)
Deepening your knowledge about trauma, TRE & family constellation.
Module 1 Earth, Foundation
What is included in Module 1 Earth, Foundation:
Everything about how to hold a 1-2-1 breathwork session incl daily practise
Creating /Holding a safe space for your clients and for transformation, healing and releasing
Anatomy of the breath and the art of touch
Several breathing practises and pranayama
Importance of Nutrition/Fasting in Breathwork
Intuition and your own powerful capacity to work with people
How to recognise a trauma, how to deal with it and when to hand over to a trauma expert.
Introduction into the Polyvagal Theory
Contra Indications, Catharsis,
Purification practises with the elements (earth/water/fire/air)
1-2-1 Setting vs Group setting, why is it so important to give 1-2-1 sessions first
Soundhealing and music medicine for effective breathing journeys and integration
How to work with Emotions and Feelings
How to deal with fear/ panic and see the magic behind it
Integration practises
How to start giving sessions, building up your breathwork community
The course days will usually starts with movement/ active meditations,followed by integrated silence, sharings and organic healthy food.
It will be an organic flow and adaptation to the course participants. Means the content is subject to change. You will receive and give breathwork sessions almost every day.
A healthy physical and emotionally balanced state of being is required to be able to be part of this training.
Participation is only possible after personal interview and registration process. This training needs full commitment and awareness that a lot of emotions and feeling will come up for oneself. This is completely normal and part of the journey to be a good practitioner. Personal experience will make you a great facilitator.
Prerequisites:
Participation in either 1:1 work, Group sessions, Retreats or Workshops, hosted by Mela.
Module 1 Earth, Foundation, Course Fee:
1700 €, not incl. food and accommodation. Max. 12 participants.
Payment plans available, as well as scholarship programs for Portuguese citizen living in Portugal.
Module 2 Water, Expansion
What is included in Module 2 Water, Expansion:
Learn everything about the chakra system and how to integrate it in to your practise.
experience the power of breathwork in water.
Practises to enhance and trust your intuition.
How to integrate the power of intention & prayer.
Altar building, work with spirit guides.
Creativity and how it helps your clients to express themselves.
Daily breathwork sessions to deepen your practise.
Practise of meditation & silence.
Including the natures element in to your work, earth, water, fire and air.
Prerequisites:
Module 2, can only be taken once you completed Module 1.
Module 2, Water, Expansion Course Fee:
777.- € for 7 days, not incl. food and accommodation. Max 12 participants.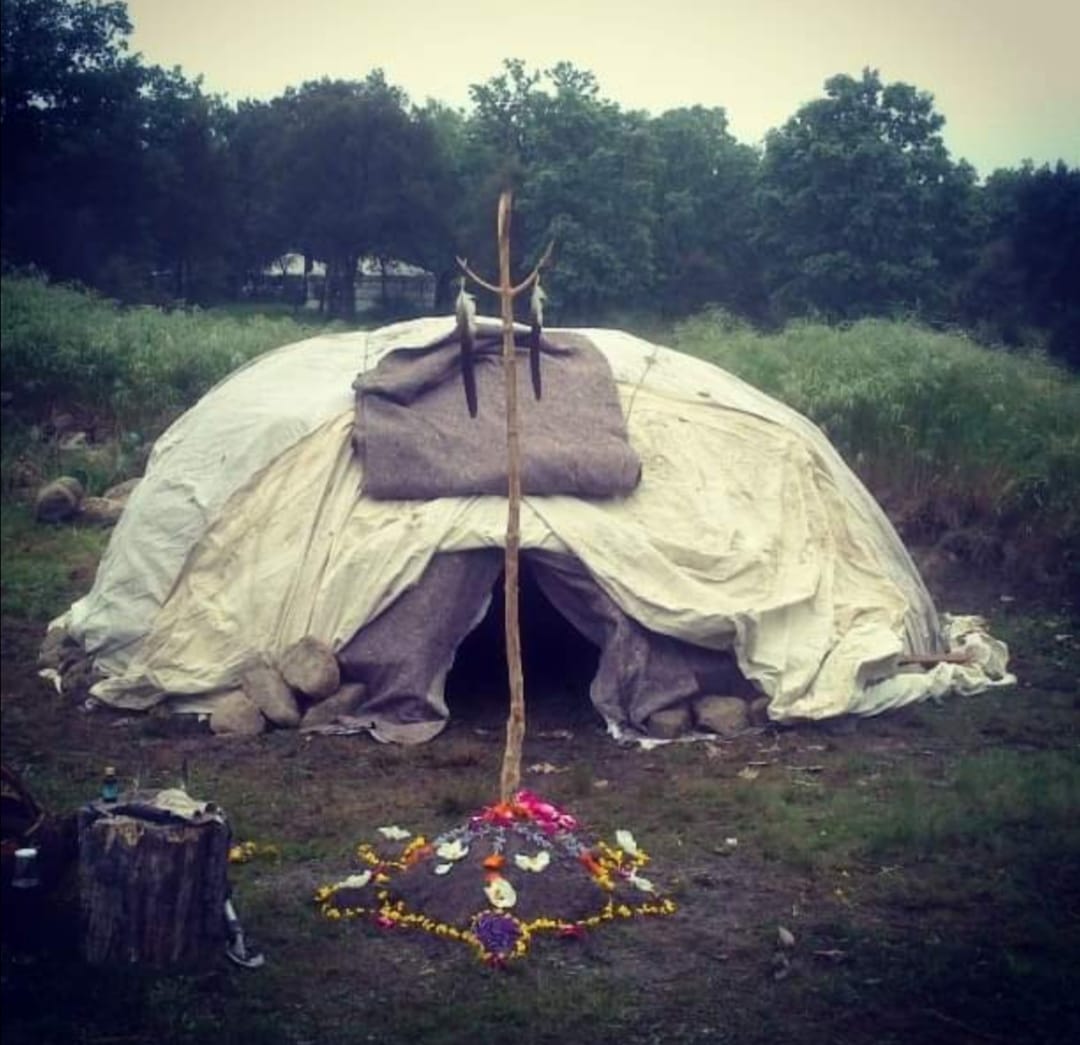 Temazcal (Sweatlodge)

Temazcal is a ceremony of purification, cleansing, rebirth and communion, one of the first practices that humans received from the spiritual world to reconnect us intimately with Creation. It represents the womb of mother earth.
Therefore, it is an opportunity to review our place as caretakers of life, nurture and cultivate the path in beauty and harmony with nature and recognize that we are all family.
Let's stop our routine, connect deeply with Mother Earth and listen to our heart, our inner voice.
Recreated in the similarity with the woman's womb, which is the same womb as Mother Earth, Temazcal is a ceremony where the same conditions that exist in the creation of Life are provided: Darkness, Heat, Humidity and recognition of the 4 elements (Fire, Air , Water and Earth)
Mela Mariposa
Mela Mariposa, is a mom of 1 boy, a breathwork facilitator, spirit coach and cacao mama, she loves sharing her passion in rituals and ceremonies.
The main focus in Mela's work is to accompany her clients/groups into a state of presence and into their heart space, where transformation can take place. She loves working with people who want to develop their potential and fulfil their dreams, people who are ready to go deep and want to dissolve old patterns and habits.
Mela has a huge background knowledge, she worked for over 12 years as a nurse in psychiatric clinics, she is a holistic nutritionist and spent years studying the science and practise of traditional yoga. She has lived, trained and taught in various communities in Asia and Europe. Nowadays she integrates shamanic work, western therapeutic elements and elements from traditional Yoga & Tantra.
Schedule Example
7.30- 8.30 Morning Movement (Yoga, Dance, active Meditation, Silent walks )
8.30. 9.30 Breakfast (in silence)
10.00- 13.00 Theory and practises
13.00 Light Lunch
14.30/15.00 Breathwork Practise
17-18.00 Sharing/ Evening Mediation
19.00 Dinner
20.00 Rest / Singing/ Fire
Dates in 2023:
Module 1 Earth, Foundation:
14-25th September 23,
Biovilla, Arrabida, Portugal
Module 2, Water, Expansion: